The 32nd Annual Lifesavers Gala
AFSP's annual Lifesavers Gala reminds us that when we join together for a cause, we can accomplish great things. Held virtually on May 19, this year's Gala was a night of inspiration and action as we honored those who bring hope in the fight against suicide. Hosted by comedian Hasan Minhaj, the event was an opportunity for our supporters across the country to come together and recognize the past year's accomplishments.
Our distinguished guests – which included actor Courtney B. Vance, Olympic runner Alexi Pappas, filmmaker Zack Snyder, football star Dak Prescott, David Axelrod and Karl Rove, and many others – shared inspiring and informative stories about how suicide has affected them, and their valiant and passionate efforts to fight it. Gala honorees have gone above and beyond in drawing attention to the cause of suicide prevention, elevating public discourse around mental health and suicide, and successfully creating real change within our society as a means to ending this leading cause of death.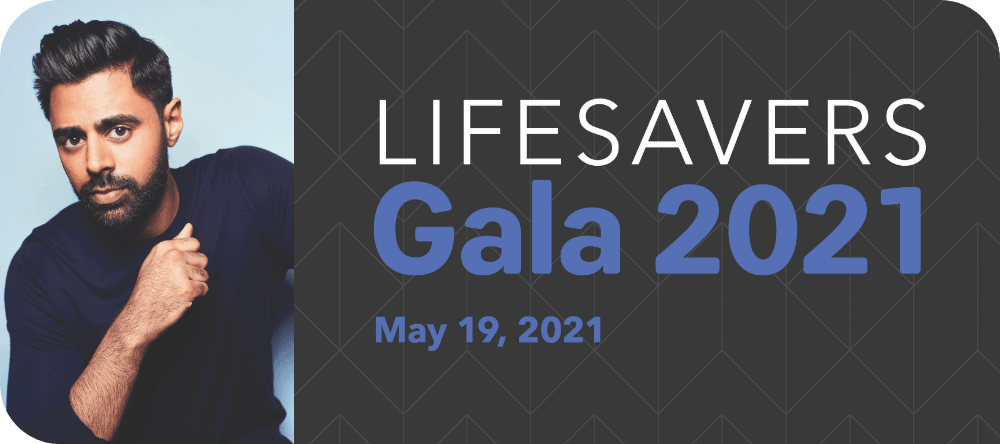 The night, which included a silent auction and raffle, raised over $400,000 for the fight against suicide. Over 500 people attended the Gala this year. Though we couldn't all be together in person, it was wonderful to know we are all still deeply connected in our commitment and passion for this important cause.
We wish to thank this year's Gala chair, Dr. Antony Loebel, and our sponsors: Sunovion Pharmaceuticals, Inc.; Janssen Research & Development, LLC; Otsuka; Lundbeck; Acadia Pharmaceuticals Inc.; Aetna; Cohen Veteran's Network; DonorDrive; IDEA Pharma; Real Chemistry; SCYNEXIS, Inc.; Troutman Pepper; and Viatris.